Status of the Key National Cluster
It was granted by the Ministry of Development of the Republic of Poland in 2017. This status is granted under the strategy of economic specialization to dedicate national and regional resources to strong, well-functioning and innovative entities showing development potential.

Gold Label of the European Cluster Excellence Initiative (ECEI)
An award granted for high quality cluster management by the European Secretariat for Cluster Analysis (http://www.cluster-analysis.org/benchmarked-clusters).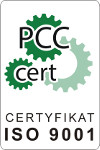 ISO 9001 certificate is a standard accepted and recognized around the world. It confirms the top quality management in the Cluster. The main requirements of the ISO 9001 standard include: introduction of document and record supervision, management involvement in the development of a quality management system, organization of resource management according to a specific system, establishment of product manufacture processes, regular evaluations and measurements (customer satisfaction, products, processes).